E. Eugene Schultz, Jr. PhD
E. Eugene Schultz (Gene), PhD, CISSP, CISM, security pioneer, educator, and long-time friend of ISSA, has passed. His absence will be greatly felt throughout the information security community. Affiliated with ISSA Los Angeles Chapter, Gene has received ISSA's highest awards for service and excellence: Distinguished Fellow, Hall of Fame, and Honor Roll. He was a contributor to the ISSA Journal: "Windows Vista Security," March 2007, "Making Identity Management Work in Your Organization," August 2008, and "Predicting, Detecting, and Responding to Insider Attacks," December 2008.
Gene was a professor of computer science, retiring from the University of California at Berkeley, an instructor for SANS and ISACA, and editor-in-chief of Computers and Security. He consulted for U.S. and foreign governments and industries, and was Chief Technical Officer for a number of firms.
A few words of remembrance…
Gene has had a profound affect on so many people, not only in Los Angeles, but around the world. He was full of life, energy, knowledge, and wisdom beyond compare. He has been a huge supporter, advisor, mentor, friend, and colleague, as well as an enormous inspiration, to ISSA Los Angeles and our community over the years. – Los Angeles Chapter
Eugene Schultz – friend, mentor, and long-time security veteran – was well known in the security community for his academic work as well as his tremendous efforts volunteering in organizations like ISSA and ISACA. But most importantly he will be missed for his brilliant mind, his worldliness, and his humor. – Nils Puhlmann, ISSA International Director
There has been a rift in The Force of the information security community with Gene's passing, and he leaves a void that will never been filled. He was instrumental in raising awareness of information security challenges with NT/Windows, and is known professionally throughout the world for his gift for teaching information security. He was a true friend of our chapter. – Puget Sound Chapter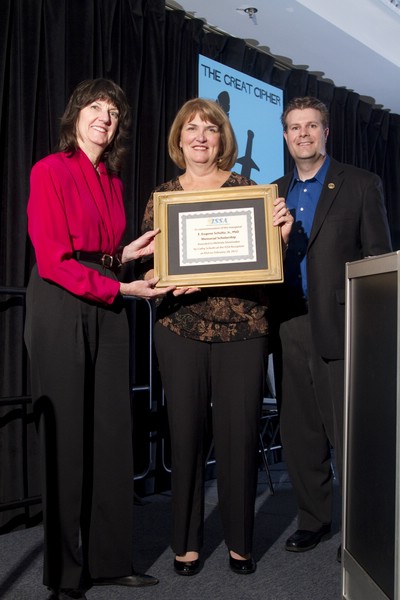 Gene has been a friend and mentor to many in the San Francisco Bay Area and wider security community. He was a long-time supporter of the ISSA, visionary security leader, well-known speaker, and a giving soul to all that knew him. – Silicon Valley Chapter.
The award was announced at the 2012 RSA Conference as a part of the ISSA meeting held there. Sandy Lambert, ISSAEF Board Chair, and Kevin Richards, President of ISSA, presented a plaque commemorating the event to Gene's wife, Cathy, at the event.